Social Media Promotion Ideas You Can't do Without
Introduction
When there is a new product that you are so excited to launch in the market, you can't wait for it to kick off immediately.
So how do you make waves among your followers on social media?
Are you aware of the low-cost, high-impact ways to do this without pushing the prospects away?
In this blog, we will share just what you need to do to create a ripple in the market without sounding overly sales oriented.
Social media marketing runs at the top of the list of marketing methods these days. With maximum social media users getting influenced by some or the other ad they have seen online, social media platforms undoubtedly play a major role in your business advertising.
So here are the five best social media promotion ideas that no one told you about.
Complete Your Profile
Your profile is a basic yet important point that many businesses miss out on, thinking it will not make a difference. But social media profiles are vital when you want to create a certain brand image for your product or service.
It is essential to fill out your LinkedIn, Insta, or Facebook page with all the correct information. Add a monthly check-in to your social media checklist. This way you get updated with all new features.
Ensure that you find space to add links to your other social network profiles and do it without fail or share a link tree for your profile.
There are story sections for you to share quick updates and give more information about your company in a different format.
Be accurate with your information, so that prospective clients can find you easily on each platform that you use.
If you wish to upgrade your social media game to a professional level, contact a reputed digital marketing agency like ours today.   
For that, read our blog on reasons to hire social media marketing agency for your overall social media growth. 
Social Media Contests to Attract Attention
Contests are the best way of promoting your product subtly. conducting engaging contests on various social media platforms drives audience attention to your product easily.
But to get maximum benefits from such contests, they should be fun to participate in with interesting giveaways for all participants. This creates loyalty for your product and services in customers, ultimately generating actual leads in the long term.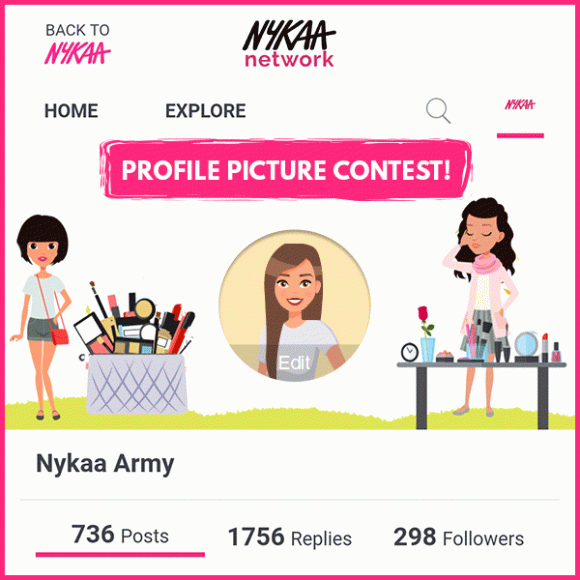 A well-known beauty brand Nykaa ran a profile picture contest where participants were asked to share their Monday look with Nykaa products. The picture that got the maximum likes would win a hamper from Nykaa.
As seen in the picture, the contest got a good response through engagement and is the ideal method to get leads in the future.
Provide Social-Only Discounts
Just like traditional marketing, where you wait for weekly or monthly discounts on certain memberships or purchases, social media can be that very platform for your business.
Creating special goodie packages or discounts for your followers will help create a buzz for your product and generate free publicity. Announcing special giveaways at regular intervals for active followers or "top fans" can help increase the number of subscribers/followers.
The best way to do this is to offer a code in a post. Social-only discounts and flash deals are the best promotional methods. Try limited quantities in Instagram Stories or by posting an offer on Facebook.
Offer options will also help in tracking who and how many take advantage of it. Providing birthday and anniversary discounts, putting names on discount credit cards, etc. is a good way of personalized discounts for customers. This will make them loyal to your brand in the long term.
Cross Platform Promotions
Reminding your followers that you have other social media platforms at your disposal is a good way to subtly promote your profiles and inspire them to follow you there as well.
You may occasionally share links to other accounts in a post with a call-to-action, asking people to follow with a small reward of a freebee for the new followers.
Another indirect way of cross-promoting other platforms is by using a space in your bio to mention that you're on other networks. For e.g. for Snapchat users, a profile photo change to their Snapcode works fine.
Social Proofs Build Trust for your Services
Social proofs like customer reviews and testimonials influence consumers and promote your product in a good light. Big organizations with heavy budgets set up social media command center and monitor their social proofs vigilantly.
Clients can make informed decisions based on the social proof that you provide them with. Other customers' experiences and reviews always do the trick to attract new customers, as word-of-mouth publicity is still impactful.
Creating maximum user-generated content for your brand is the best social proof. 82% of Americans say they seek recommendations from friends and family before they make a purchase. Click here for more such analytical statistics.
Tools such as Yotpo can help with this. There are lots of Yotpo alternatives affordable for small businesses. Check out the Facebook page filled with testimonials and user-generated content. For a detailed read on social media, and hacks to grow your business, click here.
Summing up
Social media advertising is an essential part of product promotion. Digital promotion is easy and free if you know how to get around it.
Try the above-mentioned hacks consistently, and you will see positive growth in the number of your followers, and your product reach will also increase.
Remember one saying, "Out of sight is out of mind". Stay active and engaging on social media to stay in focus of your audience.
Engage them positively through quizzes and contests and they will surely remember you while making their purchase and recommend your product or service to friends and family.