Social Media Hacks to 10x Your Business Growth
Introduction
Do you find it difficult to grow your social media presence? Do you want your content to attract your target audience? Are you struggling to boost your business on your social media platform? When posting regular content is enough, you can implement a social media campaign that elevates your brand and appeals to your target audience.
Today we see various businesses bombarding the audience with their posts on social media. So, what can make your brand stand out?
In this post, we will go through some social media hacks to boost your business growth in 2022. But before that let's see why businesses use social media platforms.
Social Media Use for Business Growth
The use of social media has increased tremendously over time. Social media platforms are open stage to showcase your products and services. Statistics say that there are 4.62 billion active social media users. And it is easy to find your target audience on the top social media platforms like Instagram, LinkedIn, Facebook, YouTube, and WhatsApp.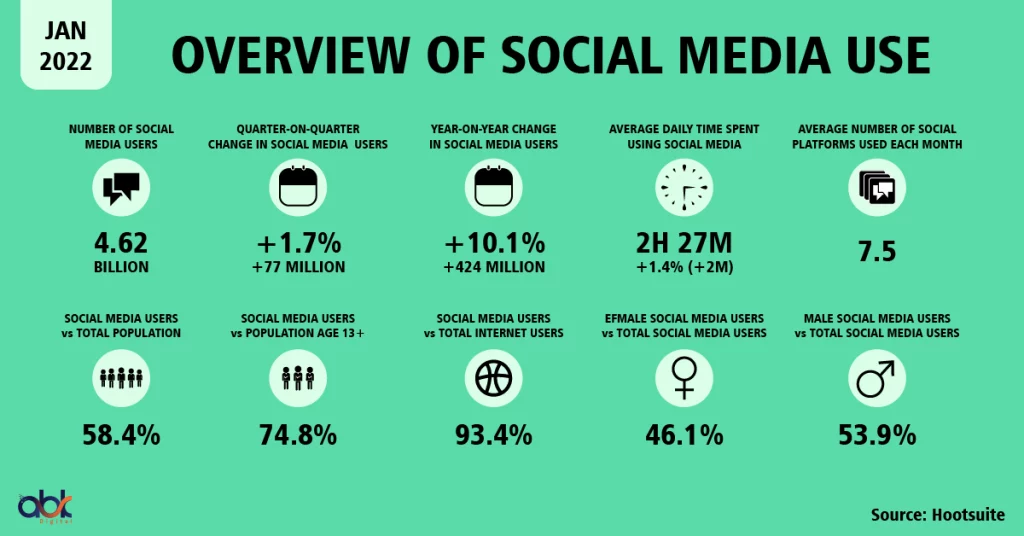 Where there is traffic there are chances of deals. Unlike individual users, businesses use social media hacks for
Driving traffic
To be found in Local Search
Promoting Content
Reputation Management
Press-Release
Customer support & Outreach
Thought Leadership
As you understand the importance of social media marketing, you can take a look to find some great tactics, some social media hacks to grow your business.
Setting Up Your Social Media Accounts
Choose the right social media networks and optimize them according to your target audience. You know that each platform attracts a specific kind of audience. As observed, Twitter had an audience of adults of higher income brackets that operate using mobile phones.
While Instagram has a younger, educated audience with a pretty big international audience. And Facebook is used by over 200 million companies to connect with their clients. While YouTube, being the second most used platform, is used by almost all businesses to advertise their services.
Despite the fact that all this offers you a quick overview of the primary audiences on those platforms, it's a good idea to contact your current audience for better response.
Use a "less is more" posting strategy
With changing times, most brands have enrolled themselves online for business. And this open stage is flooded with social media posts, sometimes several times a day. Many startups and small-scale businesses have social media accounts to compete with bigger brands.
In this scenario, how can you stand out on social media in 2022? For this, you need the "less is more" strategy. Even if this means posting less often, you should concentrate on delivering thoughtful content that offers value to your audience rather than posting only because you have to.
Influencer outreach
We often come across product advertisements that are represented by celebrities or famous faces. Why so? Because we follow them for their status and this
So, it is beneficial to elevate your online presence using social media influencers that already have a vast community that follows them. This helps you reach out to the target audience and promotes the product or services to be considered because of fan following.
For example, A sportsperson promoting a shoe will influence the followers to trust the brand and lead to heavy sales.
Collaboration in the same industry
Normally, an individual brand makes its independent ads. But if two different brands come together to promote their product can also uplift each other apart from making it cost-effective.
Collaboration in promoting two different products of the industry can be a different approach. Suppose a startup of pen makers can approach a notebook brand to collaborate. Such an idea can find a way to grow your brand presence. And, this can be a game-changer.
Emphasize video and stories more
Visual content is the most preferred type. But, amongst images, GIFs, Videos, and Infographics, Videos: Videos are one of the most loved types of content. Videos draw more views and thus, public engagement. We see that Google gives some data on the impact of video: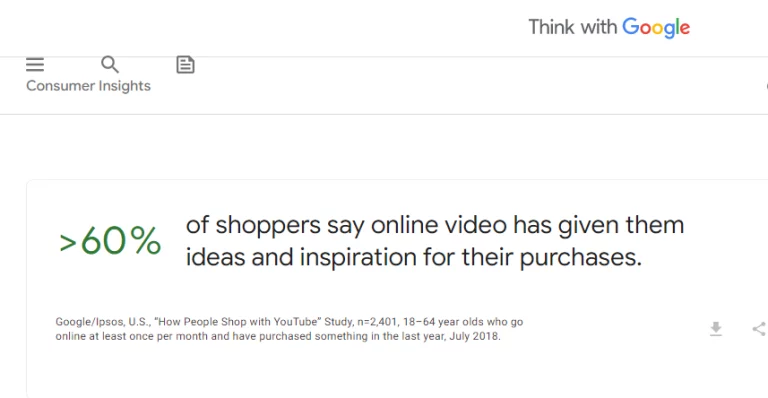 Major social media platform analysis shows that video engagement has risen over time. It is indispensable to use videos for your brand. So, what types of videos should you share on social media then?
You can publish a variety of videos on your social media profiles. Here are some suggestions:
Explainer videos
Tutorial animated films
BTS of product creation
Videos for product information
User-generated content
Stories: Since users' attention spans have been steadily declining, there is a huge need for these little pieces of content. Knowing the popularity of stories that dwell for 24 hours is available on Facebook, Instagram, LinkedIn, Twitter, etc. The best thing about stories is that they let your followers do actions like voting in polls and swiping up to open a website.
Put social media activities on autopilot
Your time on social media would seem to be entirely spent on posting, creating captions for your videos and posts, and interacting with followers. And for this, social media management tools are the perfect solution. There are several apps that allow you to plan content in advance and free up your schedule.
You may schedule your social media posts using social media automation, and they will be automatically posted on your social profiles at the designated time. You can focus on other equally crucial aspects of your business by freeing up your time by automating your social media activities.
Transform your social media networks into shopping channels
Social media has been employed by businesses as a marketing tool. Today, however, social media sites like Facebook and Instagram have developed tools that let users make purchases without ever leaving their platforms.
For example, if you find some shoe brand on Facebook, it allows you to make a purchase with a payment gateway without letting you leave the platform. Online brands have been using this feature more often during the past year.
By implementing this functionality, you may transform your social media platforms into shopping channels in 2022, giving your consumers a smooth experience.
Keep your trending content conversational
It is requisite to go hand-in-hand with the trends to engage your audience. You can categorize according to the following:
70% of your content can be about promoting your brand and building your audience.
20% of the posts can be a blend of relevant content from other sources.
10% of the content can be conversational posts to engage your audience.
You have the perfect blend of promotional, trending, and personal content to spark consumers' interest in your brand and inspire them to follow your updates.
Consider your competitors
One of the best social media growth tips involves taking inspiration from your competitors. You should keep a watch over things like their most popular social media platforms, the kind of content they provide on each one, how frequently they publish, their engagement strategies, and more.
Perform a competitor analysis on social media, identify their benefits and drawbacks, to develop a plan to give your brand an advantage there. Such a study is to analyze any gaping holes that your brand's social media can fill.
The call to action needs to be perfect
Even if a user finds certain information to be inspiring, they can still need some encouragement to share it. Include a call to action that urges users to share your content.
Nobody enjoys a social media "engagement beggar." It's unprofessional to continually nag people to retweet, comment, like, etc. on your social media postings. Of course, you can add links to your social media profile or related blogs.
CTAs are commonly used on images, in post captions, or as buttons on the main post. It can be like: Apply now, book now, contact us, Download, get offers, learn more, no button, Shop now, or sign up.
Restructure Your Social Profiles
The most obvious optimizations include the images you use. Your brand might appear much more professional if you select the appropriate measurements for your header or profile picture.
Twitter Header Dimensions: 1500px by 500px
Facebook Cover Dimensions: 820px by 312px
While profile picture should be square with 800px by 800px to ensure it is clear. Apart from this, you should include the following in your brand profile:
Superior cover and profile picture
A concise but comprehensive bio
a URL of your website
Office locations
It's essential to make sure that all the information on your social media profiles is identical. Here, it's wise to make sure that your staff members and your own personal social media pages accurately represent your business.
Stay Consistent with Your Branding
It is essential to maintain your brand personality or brand voice across all social media platforms. The color scheme for your brand profile and a certain tone are important components that need to be taken care of.
The greatest business profiles use branding components consistently to establish a connection with their target audience. The other way beyond broadcasting your content is socializing with others. You can spark conversations on social media by:
Commenting on other's posts
Asking leading questions and answering those of others
To reach your audience
share and repost relevant content created by others.
If users can see that you're interested in the content they post, they are more inclined to follow you. Thus, it provides them with a positive view of the kind of business you run.
Use Hashtags Effectively
Hashtags help organize social posts into searchable categories which makes it easier for users to find what they're looking for. It is an excellent way to reach new audiences on a platform.
What keywords are relevant to your industry? What keywords best sum up the content you want to share? The answer to these filters is the group of possible keywords for your social media posts.
You need to discover the search terms that your customers use to get the best results from your hashtags. And when targeting audiences who are already interested in your industry, use niche hashtags.
With strategies on Instagram hashtags, you can achieve maximum public engagement. Recently Instagram made it possible to add clickable hashtags to your profile, enhancing discoverability and directing users to branded content.
Embrace Social Media Adverts
Efforts to grow your business organically have its results and a paid approach have other. All the major social media platforms provide paid advertising choices. Advertisements on social media are a brilliant idea to quickly move toward your objectives.
However, it's useful to focus your advertising approach on engagement rather than self-promotion. To attract more potential customers to your message, consider announcing giveaways or freebies in your advertisements.
Summary
Growing your company's social media presence is tough. But a well-planned social media campaign does the job of growing you online.
With most of your posts, focus on engaging with the audience and resolving as many of their issues as you can. A set-and-forget strategy for social media marketing won't work in the modern era when the ordinary customer simply wants relevant experiences.
So, we've shared with you in this post some incredible social media tips and tricks that will keep you one step ahead of your rivals in 2022. The only thing left to do is to begin modifying your social media strategy to take advantage of these tricks before your competitors.
If you find this overwhelming with managing your business, you can hire a dedicated social media agency to manage your social media profiles.