Top 5 LinkedIn Marketing strategies for your business Promotion
LinkedIn, which is a popular professional networking site, was launched in 2003. This platform focuses on professional networking, career building, and sharing knowledgeable ideas. LinkedIn members can connect and share content with other professionals, potential employers, business partners, competitors, new employees, and clients.
Though other platforms are evolving to help businesses network better, to name some, 1 Million Cups, Weave, etc. None of them beats LinkedIn's dedication to getting professionals from across the globe to come together as one community for their mutual benefit.
The fact that 25% of all American adults use LinkedIn, and 22% of those use it every day proves this true. This social media tool exposes your business to millions of connections to build mutually beneficial contacts and spot companies to collaborate and grow.
LinkedIn marketing strategies generated 3.8 billion dollars in advertising revenue in 2021, and this figure is expected to reach 7.7 billion US dollars by 2026. This platform is individually responsible for around 0.8 % of the global ad revenue according to Statista.
These statistics make it the most legitimate tool for your business promotion. In this blog, we will discuss how important LinkedIn is for business marketing, and we will present you with tools to help best promote your products and services there.
Why Promote your business on LinkedIn
As of April 2023, LinkedIn's audience reach was 200 million users in the United States alone. Second in this list of users was India with an audience of 99 million! With so many users globally, you have to make a proper digital marketing strategy for LinkedIn promotions to boost your brand.
Here are some solid reasons to promote your business on LinkedIn.
Connect with Targeted Customers and Businesses
LinkedIn helps connect relevant professionals rather than having hundreds of connections that are never useful to you. LinkedIn marketing targets precise titles, locations, jobs, groups, events, products, and companies. You can hardly go wrong with selecting the right people to connect with.
If you are a small business, you can zero in on a particular industry, company size, and job role that would buy your products or services.
If you are a service provider selling customer support software to small businesses in the US, set your advertising campaigns to show to businesses that have less than 100 employees located in America and only to executives of those companies having a "customer support" title.
Stay on Customers' Minds all the time
There is a well-known proverb "Out of sight is out of mind". To avoid that for your business, follow these simple tips for lead generation on LinkedIn, and you will see results in some time.
Know what kind of people make high-quality customers for your business.
Search LinkedIn for people fitting those criteria and connect with them.
Stay in touch with people who have expressed interest as part of your LinkedIn marketing strategy.
You can put daily status updates and weekly or bi-weekly LinkedIn blog posts to remain on top of their network without directly contacting them.
Monthly emails sharing information on problem-solving that resonates.
Invite contacts to free webinars or offer free access to whitepapers.
This systematic no-cost process for lead generation on LinkedIn works every single time. There are professionals to help if it becomes too much to cope with. Digital marketing agencies with social media executives specializing in LinkedIn marketing can get your business significant views and connections quicker than you think.
Focus on Email Marketing List
It may sound old-fashioned, but email marketing still works! Last year around 67% of marketers globally stated that their e-mail marketing campaigns had an increased open rate compared to that observed in 2021. This, and other email marketing metrics indicate the significance of email marketing in the current date.
Connect personally by writing a curated mail to every connection on LinkedIn thanking them for connecting and inviting them to be part of your mailing list. Grow this list over time and accept something they offer to garner goodwill.
Active Participation in Groups
It is always advisable for business owners to join LinkedIn groups with members of their targeted demographic. It is a terrific way to interact or share opinions. You can message members of the groups you joined, without being their first connection.
Impactful Company Page
Your first impression on LinkedIn is your company page. It must be creative with brand colors and consistent content displaying your website and other social media profile links. This page should always appear sharp to show it is actively maintained. A visitor to this page should be able to locate and contact your business with ease.
Sponsored Updates on LinkedIn
This PPC or 'pay-per-1,000' impression feature offers demographics like other social platforms. Here a unique feature is the ability to customize based on company name, job title, function, skills, and groups. Members target relevant industries ruling out irrelevant companies and messages.
Sponsored updates are an excellent way to display thought-leadership content for the targeted audience. Share free whitepaper, and guides to increase website visitors and generate sales leads.
LinkedIn Marketing Strategy to Grow Your Business
According to Sprout Social, marketing on LinkedIn generates 277% more leads compared to Facebook marketing. Many B2B marketers also believe that LinkedIn helps generate 80% of their social media leads. LinkedIn marketing is an effective marketing tool that elevates your business if used correctly.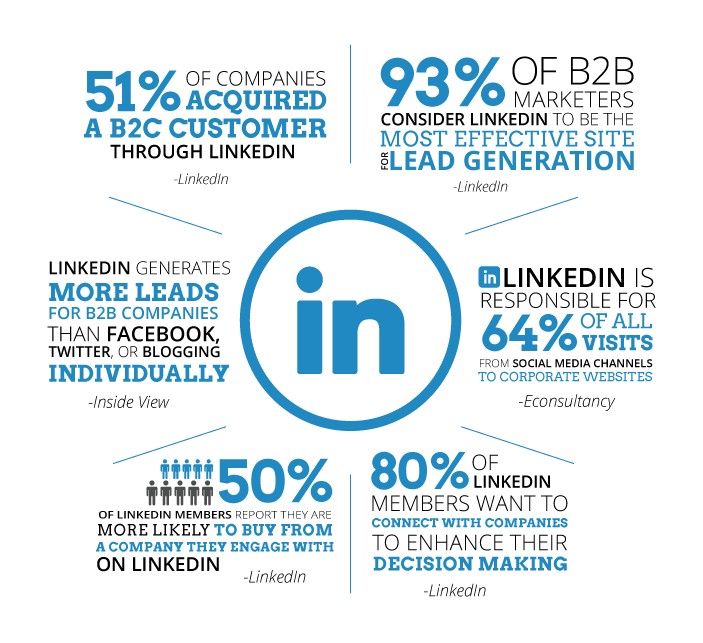 Image source: digital vidya
Use hashtags
Hashtags are tools to help emphasize your LinkedIn posts and help add focus to your marketing strategy. These are simply words preceded by a hashtag symbol, and they help tap into new demographics of audiences, industries, and niches.
Be careful not to use the wrong ones or too many of them, or they will hamper your reach. Maintain a healthy balance of relevant and popular hashtags through hashtag research on LinkedIn. Each of the popular hashtags has a set of followers. While using that hashtag, you are targeting your post to that audience. It is an effortless way to get huge audiences to your business effortlessly.
Using LinkedIn Profile vs. a LinkedIn Page
Using LinkedIn for marketing, you will see a vast difference between a LinkedIn page and a profile. You can follow a LinkedIn Page without sending a connection request and getting it approved. So, when a LinkedIn member shares your page in their network, those members can follow the page, and look up your business' content immediately and get you high engagement.
Both LinkedIn Pages and Profiles have different purposes to serve in your LinkedIn marketing strategy. The pages are public and used for business purposes. Whereas profiles are private and used by individual members. Both works differently with the LinkedIn algorithm, with different tools to leverage and grow your audience.
If you want your LinkedIn profile to grow, you need to have a one-on-one connection and regular visibility through posts and other engagements for your network to grow. Using both as marketing tools will help create a unique marketing and sales funnel. Get listed as an employee of your business page by listing the page as your employer on your personal profile. Doing so, your profile visitor will see your business page, too.
Create Posts of Varying Lengths
As a thumb rule, any social media platform demands regular engagement and posting. LinkedIn is no different. Being a networking platform strictly for professionals, it demands a certain type of content to help you rank better in its feed and reach out to the relevant crowd.
Informative posts of varying lengths are impactful on LinkedIn. Long storytelling formats attract regular readers who find value in your content. Use infographics and videos regularly to highlight proficiency in your niche. A good mix of content marketing will give you good limelight for your business and do wonders for your various social media metrics.
Share External Articles on the Platform
LinkedIn's algorithm supports external links if the content has value and is relevant to the audience, you can post external content on the platform. The bonus point here is that if you credit the author and they comment on it or share your post with their followers, it will introduce your Profile/business to their audience. Maintain your content calendar diligently and post consistently to get superior results and followers.
Maintain the Publishing Schedule
LinkedIn has one of the longest content lifespans known but does not require a hyperactive publishing schedule. Consistently publishing daily, or weekly will make your network expect your content at those times, and that builds trust.
The trick is to choose a schedule that resonates with your business and stick to it for a long time. Analyze and spot the days and times of the days yielding the highest engagement and ensure you always follow them in your publishing schedule.
Whatever your purpose for being on LinkedIn, be it boosting brand credibility or connecting with professionals, you need to keep track of your analytics regularly.
Here, we discuss some critical LinkedIn analytics every marketing agency or business needs to track to maximize their and their client's online presence, generate leads, and establish authority in their niche.
Impressions
Impressions are the total number of times your LinkedIn post was seen. This includes users who see it more than once. When you view impressions data through a metrics chart, gain extra insights as:
Determining the best time to post: Easily identify days when a post is viewed most often and refine your posting schedule accordingly to ensure that your network receives your content when they are most likely to view it.
Posts to sponsor: Compare organic and sponsored posts and determine which posts work best with your existing followers. Sponsor them to increase your follower base.
Long-term trends: Analyzing impressions over time helps visualize the path for fresh marketing campaigns. If there is a downward trend in impressions, it indicates the content served is not compelling and is being served to fewer followers.
Having a good number of impressions does not always indicate that your post is extraordinary, but it is a great indicator. You still need to look at the following two metrics to understand how well your posts resonate with your target audience
CTR (Click-Through-Rate)
Clients usually sweat over how many clicks their content and LinkedIn ads receive. But CTR provides real insights as to how relevant and engaging your posts are.
CTRs are the total number of clicks received divided by the total number of impressions. It gives the percentage of people who see your post and click through them to learn more.
High CTR validates the effectiveness of LinkedIn ads both imagery and copy.
CTR & Engagement Rate
This metric indicates if people are interested in what you have to say. Just reaching an audience is not enough, reaching the right audience is important. Look at the follower demographics to understand whom your content reaches.
Key LinkedIn Engagement Analytics to Measure Include the following
Clickthrough Rate (CTR): Higher CTR indicates that your content is relevant to your target audience and is driving them to take action. By monitoring CTR, you can identify the best-performing content types and image creatives to optimize campaigns for maximum impact
Engagement Rate: High engagement rates often lead to higher visibility on LinkedIn. Engaged users most likely share your content in their network, attracting new followers and fresh potential clients in return. CTR combined with Engagement Rate, tells you who follows your content.
Social Actions: Positive engagement through social actions like likes, comments, and shares will help you show your thought leadership skills and build credibility within your niche. Comments lead to valuable user-generated content, encouraging discussions around your clients' brand and topics of interest, further increasing engagement and brand awareness.
Gaining these data points and analyzing them aptly helps determine what clicks with your followers and gives your tools to create more of what the audience demands.
Follower Demographics
Demographic analysis helps understand whom your content reaches. Understand if the audience comes from small businesses or large corporations, their job function within their company, and most importantly their location. Target specific verticals and industries where your viewers work with accurate demographic analysis done with the help of various digital marketing tools and strategies.
Number of Followers - Total and Organic
LinkedIn prioritizes organic over paid (gained through paid campaigns) followers. The chances of your target audience seeing your posts on their feed increase if they follow your page. This makes it important to actively keep increasing your followers. The higher the number of followers, the higher your brand credibility in the view of clients.
You can analyze the effectiveness of a sponsored post by checking the number of new followers it generated compared to your organic posts.
Profile Views or Page Views
The number of Profile Views is an indicator of a brand's visibility and its reach on LinkedIn. When users visit a profile, it usually indicates that your content, product, or branding has prompted their interest.
Visitor metrics cater valuable insights into the traffic directed to your LinkedIn Pages and can be customized to display data based on Page sections, total Page views, specific time ranges, and unique visitor counts.
Digital marketing agencies can analyze these metrics accurately, allowing a comprehensive understanding of clients' LinkedIn marketing strategy's performance.
By tracking profile views, you can identify trends and gauge the success of your agency's profile optimization strategies in the long run. Read our blog to know similar visitor metrics for your website as well.
ROI and Conversion Tracking
Monitor the purchases, sign-ups, or downloads by users after engaging with your LinkedIn ads. The following conversion metrics inside the native LinkedIn analytics tool will help assess the success of any marketing campaigns on LinkedIn.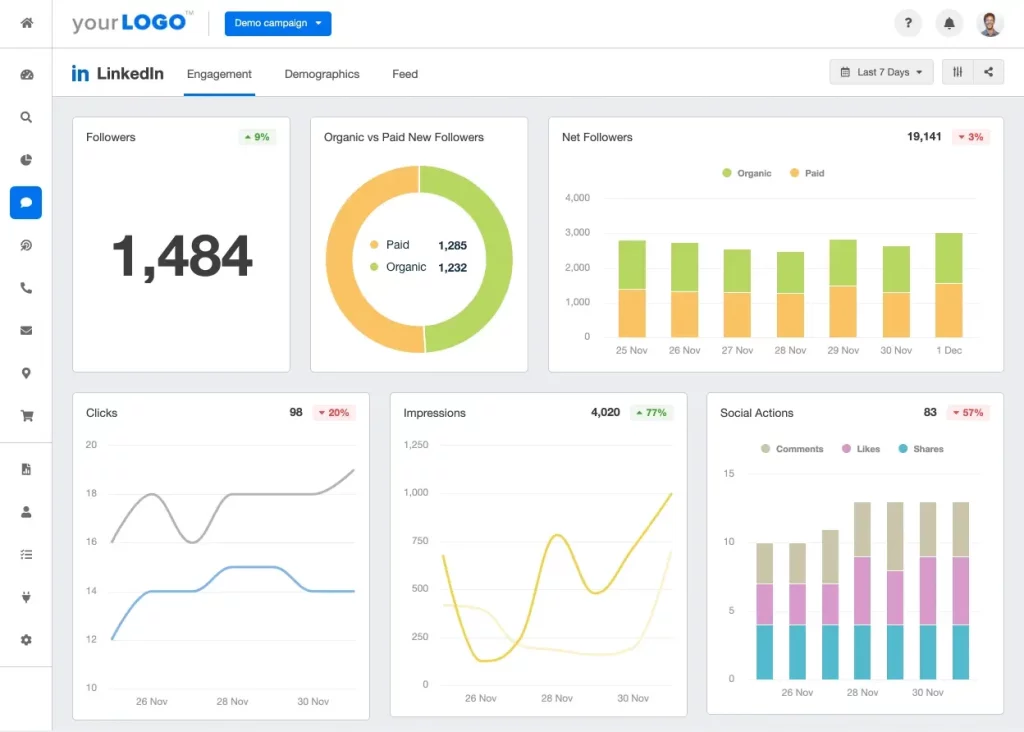 Image Source: agencyanalytics
Conversions: It is the number of times users took favorable actions such as signing up for a Webinar, downloading a PDF, or purchasing a product or service.
Conversion Rate: This refers to concluding the percentage of users completing a desired action after clicking on your LinkedIn ads. It means did they visit the website and engage with your product and services?
Cost Per Conversion: This metric helps agencies evaluate how cost-efficient and ROI-friendly any campaign is.
Conversion Value: Cost Per Conversion when measured with the Conversion Value, gives a clear idea of the return on ad spend. These metrics help in quantifying the overall fiscal impact of marketing campaigns and whether the advertising cost is justified.
Conclusion
LinkedIn marketing is a powerful tool for getting exposure and new customers for your business. It also helps to make fresh, meaningful connections that help in further expanding the reach of your enterprise globally.
Making a strong LinkedIn marketing strategy for your business promotions will surely get you the desired results provided you keep all the valid factors and metrics in mind.
We discussed the top reasons to use LinkedIn marketing in this blog and the factors to keep in mind while using this platform. Remember to utilize all the measuring factors and metrics to your advantage and if you are confused about any of them, remember that there are experts available to help you out.
Contact a professional digital marketing agency for precise and concise guidance on how to project your brand on LinkedIn. You may also read more informative blogs on digital marketing on our website.