How to Boost Brand Awareness using Digital Marketing
Marketing for brand awareness has been around for a long time. Methods of product promotion keep evolving in the digital marketing era. Digital marketing helps create brand awareness and spread it faster than any conservative marketing method.
Marketers, these days, have lots of tools and techniques at their disposal through digital marketing. Anyone who wishes to do online marketing should know why digital marketing is important and have an overview of it to know its relevance in selling products and services online. In the last decade, it has become clear that digital marketing helped brand building with text-based product information sharing, and digital marketing was mainly used for selling products online. But, over time, lots of metrics have changed and evolved in the digital marketing world.
Be it website traffic metrics, SEO metrics, or PPC metrics, our blogs explain every bit of these in detail for a thorough understanding. A business can accomplish both targets of advertising and customer service through this vast medium.
According to the latest digital marketing surveys, around 86% of marketers increased brand awareness using one or more digital marketing channels. In this blog, we explain the role of digital marketing in brand awareness for your business.
Brand awareness is an essential element of marketing. Though difficult to define or measure, proper brand awareness is essential for the success of your business.
Investopedia, says "Brand awareness is the degree of consumer recognition of a product by its name". If the consumer views your products as different from the competition, there are more chances of making a sale. Let us have a look at different ways through which digital marketing helps in creating brand awareness.
Social Media Promotions
The most popular way to generate engagement, visibility, and awareness is through various social media promotions ideas and giveaways.
Social media users like to be seen and recognized. So social media sweepstakes are perfect opportunities to reward your followers' support. Because they are the ones who reshare your content or recommend it to family and friends. This is the reason why social media giveaways work well as a brand awareness marketing strategy.
Let us look at one of Instagram's giveaway ideas, used by Birchbox to promote its fresh product range.
The New York-based monthly subscription service gave its followers a chance to win an exclusive set of products before its launch. Participants had to choose the products they wanted to see in the set.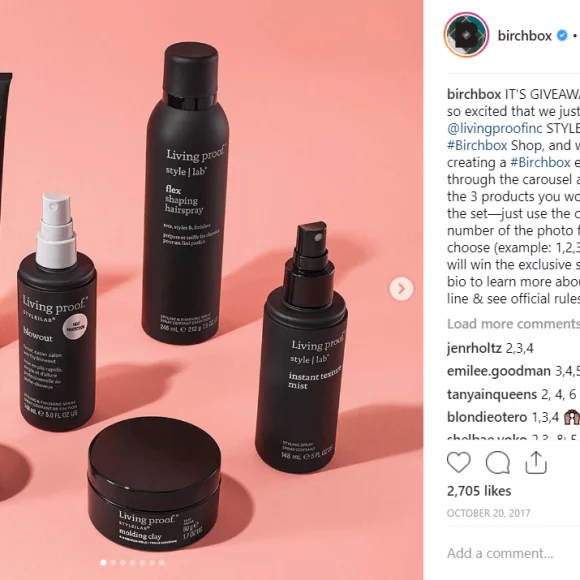 Engagement through Comments
Leaving a comment makes the brand stick in people's minds better. The audience feels a personal connection with the brand because they've shared a conversation.
Increasing the reach
The likes, comments, and follows help to surface brand awareness campaigns on social media. The more interactions a brand gets, the more people will see the posts in the Explore tab.
Brand positioning
Birchbox chose an easy interaction from their audience that was engaging and rewarding at the same time. Though not everyone converts to a paying customer immediately, maybe one day they will purchase the set that they voted for in the contest.
The most vital social media metrics for a comment giveaway is the number of comments the post receives. Other KPIs are follower counts, likes, shares, and unique views.
Boost Brand Awareness with Marketing Gamification
Between static and interactive or dynamic content, what attracts your attention while scrolling on social media? The second option, right?
As an average social media user, you see thousands of posts daily. Products images and information about discounts and deals would catch your attention, but it does not entertain you. Marketing gamification does.
Branded mini games are very effective for brands looking to generate fresh leads. Users play these games, and once they complete the game, they are requested to leave their contact details to win attractive prizes. The game is customized with your corporate image and logos generating trust and making the user more likely to share their contact details to win something that appeals to them.
Know the Importance of UGC (User Generated Content) for Brand Awareness
About 92% of customers trust the reviews and recommendations shared by other users, rather than advertisements. So, UGC helps in trust generation among users and social media audiences. Looking at a product for the first time is just the beginning of any consumer's journey toward purchasing it.
As a brand, you have to guide them on that journey with correct brand positioning and the growth of the brand/customer relationship. A well-known baby-centered brand, the Australian Nappy Association asked parents to post a photo of their child wearing cloth nappies every day during October. They offered a vast range of prizes, with one awarded each day.
Needless to say, the campaign was a huge success, and there were tons of reasons to love this campaign.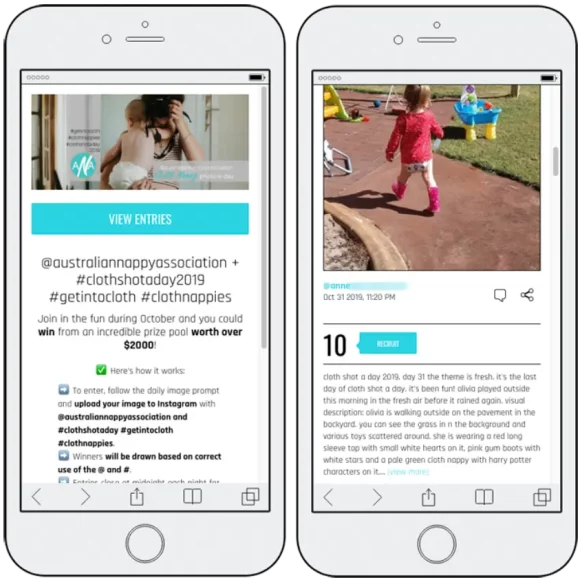 Credit: easypromosapp.com
Here is how these content benefits your brand. When you collect photos on the Instagram contest or set up a photo contest webpage, those images are yours to use. It is free content showing followers that you value their contributions.
It helps in doubling the interactions. For example, in this brand awareness campaign, people voted on the photo entries. Hence, they had a dual interaction opportunity. First, by posting photos and second voting for their favorites. It helped boost social media reach as the contest used multiple brand-relevant hashtags, and the business received a phenomenal boost on social media.
The social media campaign also helped encourage customer loyalty. Daily prizes made users keep coming back. Each time they got exposure to more brand products. The photos shared by customers generated brand authenticity.
It boosted the brand positioning. According to the Harvard Business Review, shared values are behind 64% of brand relationships. It means customers are more likely to commit to your brand
if they believe you share the same mission. Which, in this case, is caring for young families. This means product positioning and demonstrating values are important for brand awareness
Influencer Marketing
It is very natural for people to get influenced by celebrities and influential people whom they follow personally. This is where influencer marketing comes into the picture in the digital marketing landscape.
Celebrity endorsements work better than traditional advertising as customers rely on the advice of influencers to make their purchasing decisions. This concept works well with fashion brands, cosmetics, accessories, automotive products, and service industries. There are a lot of creative Social Media Ideas where influencer marketing helps.
When you connect with your target audience's favorite content producers and influencers, it will help you connect directly with them. You can use influencer marketing by launching guest blogging campaigns with relevant influencers and collaborating with them.
Influencer collaboration helps because celebrities know what content resonates with their audience. When you wish to expand your reach online, influencer marketing is a tool you cannot ignore. As per Hubspot, in 2022, the influencer market in the U.S. was valued at a record 16.4 billion! 89% of marketers who engaged with influencer marketing last year will increase or maintain their investment in 2023.
Introduce your brand to their loyal following, and they are more likely to buy from you. You may wonder how to measure brand awareness. If you wish to expand brand awareness using native advertising, you need to track impressions, click-through rates, and visitors to your website. Keep track of the data shared on each social media network to boost your brand's visibility.
Use Content Marketing as your Brand Awareness Tool
Use storytelling to build a brand and connect with your audience. It helps resonate with your target audience and enhance your brand's recognition. When you share your narrative, you allow customers to have an intimate connection with your brand, and it boosts your chances of being remembered.
Another form of engagement through content marketing is using graphics regularly to make your campaign memorable for your target audience. Social media marketing also helps with outreach and developing niche authority for potential customers by employing relevant content with visual aspects like color schemes, border styles, patterns, or even special typefaces.
Content marketing boosts brand awareness by employing a strategy combined with paid ads. Emphasize your company's core values and USPs to potential customers through various content marketing trends.
Stimulate Brand Visibility Using SEO
Here are some statistics revealing the importance of SEO for your business rankings on search engines. 66.31% of pages have no backlinks. Usually, the more backlinks a page has, the more organic traffic it gets from Google. The number one result in Google's organic search results has an average CTR of 27.6%. 56% of in-store shoppers used their smartphones to buy or research items while in-store. Find more of such interesting SEO statistics here.
SEO helps your website in ranking better in the search results. This blog cannot be complete without discussing SEO's role in raising brand awareness. High search engine rankings increase brand visibility. Moreover, to make your brand easier to spot, a higher ranking in search results gives better credibility to the target demographic.
Use long-tail keywords relevant to your niche if you want to appear on the top results of multiple search engines. Be active with local SEO practicesso that when anyone searches for a product or service which you offer, your company or brand name immediately gets exposure to the right audience increasing your chances of getting new clients.
You can even get professional guidance for the better SEO performance of your site by contacting result-driven digital marketing agency like us.
Conclusion
Remember one important thing about brand awareness and product positioning. It is differentiated from others. The brand, products, and your efforts to promote them need to stand out from the crowd. That is why it is important to offer unique experiences as part of your brand awareness digital marketing campaigns as mentioned in the points above.
A digital campaign to drive brand awareness needs to be interactive and showcase your values and niche authority to the audience. Crafting a relevant digital marketing strategy that helps generate brand awareness is the first step you can take to place your business in a perfect selling position.
But creating brand awareness for your business does not happen overnight. It requires consistent targeted efforts with well-defined goals that give you measurable results.
A balanced combination of all the above-mentioned techniques will give you visible results in the long term if you pursue them consistently. At the end of the day, if you get stuck, there are experts who can help you with your brand-building efforts with well-defined strategies that boost your brand awareness drive.
For any such requirements, contact us or call to discover the digital marketing services we offer our clients to help them rank better in search results and eventually gain new clients.