SEO is a very fluid market. Things keep changing regularly, it evolves spamming Google. Competitor gap analysis and keyword gap analysis along with strategic planning will help you.
A well-structured and uncluttered website enhances the user experience. It will bring targeted clients who are looking for your services to improve conversion rates.
According to Forbes, Google receives over 74,000 searches per second, at any given time of the day. Out of these billions of searches, 15% are new searches.
Unless your site is optimized with SEO, you are not going to reach those people who may be your potential clients. hubspot.com says, 91% of net users in the US search on Google every month.
We can safely say that search traffic is the first place your potential new customers will find out about you. If they don't see you there you do not exist for them.
Search engine optimization (SEO) gets targeted traffic to a website from a search engine's organic rankings.
SEO for business would include:
This year will show some drastic changes in all the forecasted trends of SEO for small businesses due to the ongoing Coronavirus pandemic. This international crisis will change the entire global economy and the way people do business. Many businesses will have to gear up for the world after COVID-19.
With numerous digital outlets on their plates, companies need to make sure that they are always available to cater to their customers by getting SEO for business done aptly.
This blog will walk you through the reasons why no business can survive without SEO.
9 Important Reasons why your Business Needs SEO

We can present 100 good reasons to stress the importance of SEO for your business. But let's cut the chase with the most important ones. You will see that SEO for small businesses is equally important after this.
The main motive of any business is GROWTH. This goes unsaid. Targeted SEO for business brings lots of possibilities for generating new business and making a bigger brand. It makes a business stand out from its contemporaries.
If your brand gets famous due to SEO, people directly search for you on Google, share content from your site, ask for collaborations, and request guest posts and also start inquiring about your services.
This stage is known as the love mark, a stage when brand loyalty overcomes reason. For achieving this level of dedicated audience, focus on stories that tickle senses. Demonstrate commitment towards the audience and win their trust.
SEO is an inbound marketing plan which helps people to find your business through your content. Therefore, SEO for small businesses is also very crucial.
As compared to other paid search methods, SEO guarantees long-term engagement.
SEO has a prominent impact on a business. Ever wonder when your site will rank #1 in related relevant search?" Many companies start SEO but after a month or so, they give up saying "SEO doesn't work for me". But this is not the right approach. Any new website will see results from SEO in approximately 6-12 months.
If you show that much patience it will keep your website on SERP with long-lasting results. An experienced businessman would know the importance of optimizing the portfolio and generating conversions. SEO for small business offers visibility in SERP and afterward with monetary results.
This is how it works. SEO for small business may consider a 6-month plan, it needs more investment in its initial phase, comparing to other paid advertising methods. Other means require you to pay from month to month to keep receiving results.
They have a shorter time for giving conversion, but you need to keep investing till you want results, whereas this is not the case with SEO.
Once invested in SEO initially, it keeps giving results for a long period but, after some time.
If you plan to invest a handsome amount in your SEO for at least 6-12 months then be sure that ROIs, in the long run, are going to be amazing. If you think spending for 3- 4 months will suffice then think again.
SEO is a long term process and is slower then SMO in the short run. So allocate your budgets accordingly. SEO Company will maximize the organic searches and a considerable percentage from these searches results in a purchase.
This is like a future investment that in a long-haul brings impressive ROI.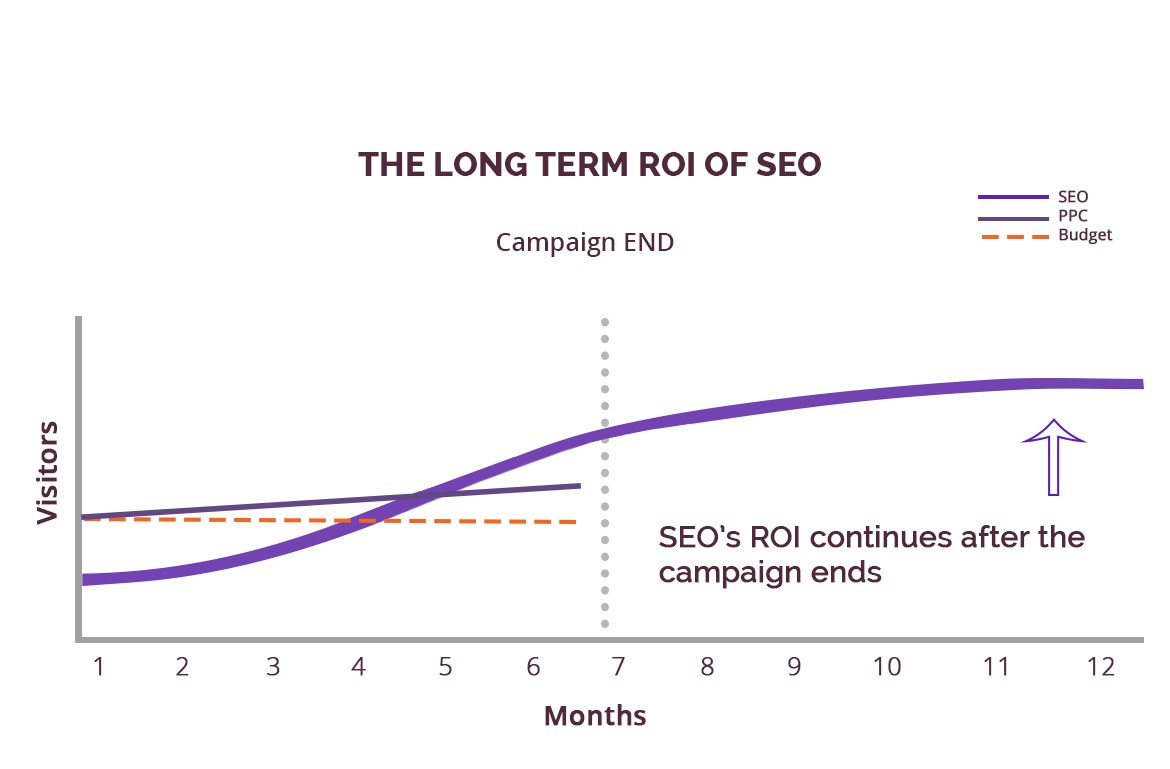 "You don't need to have a perfect strategy for SEO you just need to ace it with your competitors"
Google owns a huge portion of the search market as compared to other search engines. Organic searches are a critical aspect of the buyer funnel. It is a big part of website performance and Google owns around 75 % of the entire search market. And thus, it is critical to adhere to the guidelines that it follows when it picks up a site for a search result.
The remaining 25% search market owned by other search engines is also valuable and when some businesses only focus on those they can avoid a lot of competition.
It is a known fact that Google is the most visited site specifically in the United States and the majority of the world which has internet access visits Google several times for information.
According to a survey, the annual internet search reports show that voice search queries are 35 times larger than they were a decade back. This will be even bigger in the coming years.
Many brands focus on developing voice search technologies for their assistant apps. These apps listen to the user and come up with audio results or even videos if we consider YouTube. Voice searches are divided into four major categories generally.
Personal assistant: this helps record to-do lists, schedule meetings, and events, calling on the phone, and daily activities.
Entertainment: searching for movies, songs, buying music, TV series, etc.
General info: web search regarding news, media, and current topics, etc.
Local info search: looking for food joints, restaurants, maps, hotels, or even traffic jams, and map searches.
When we are discussing the importance of SEO, local SEO has to be on that list. Local SEO dominates the SEO trends because of the increase in mobile and voice searches.
Google My Business helps start this process for you. Local optimization helps your blogs if they have local keywords in boosting rankings and visibility. To target specific locations, you have a Keyword tool and Content Assistant.
Say you have a food joint near the stadium in Madrid and a client is visiting there and decides to eat later. He will search for a place near the stadium and end up eating at your joint.
SEO does a lot of analytics, but using that data to make decisions to get results is challenging. You have to spot the useless data and get rid of it first. There are tools like Google Search Console that can help with this.
You may also use SEO tools that show competition ranking, authority pages, on-site errors, linking situation, duplicate content, content marketing gaps, slow page speed, etc. Also, keep mobile traffic in mind as it plays a big role in online searches now.
Last year, 52% of global online traffic came from mobile, and 45% from desktop.
For an interesting read on digital marketing, click on the link below:
As a saying goes, "The best place to hide a dead body is page two of Google." 
When we compare two businesses of the same industry, selling the same products at similar prices, one has optimized their website by understanding the importance of SEO and the other has a non-optimized website.
Which company do you think will attract more customers through local searches and grow faster? Undoubtedly the optimized site gains points here.
Local SEO helps struggling communities save their local businesses. So many local business marketers say they plan to implement Google's new features to support COVID-19 affected businesses as per a survey.
Courtesy - Search Engine Watch
SEO-optimized websites not only load faster but are easier to surf and read across devices like mobile and tablets. Also, the benefit of getting higher rankings on SERPs will build brand awareness.
Customers will trust the brand when they initiate a search and your site appears on the first page of major search engines like Google, Yahoo, etc.
We can discuss at length each aspect of the importance of SEO individually but as of now criticality of SEO can't be stressed enough for any business.
For an interesting read on digital marketing, click on the link below:
For any digital marketing, SEO, or paid promotions inquiry, call us now.